I have discovered that the key to being happy in my life and my body is by doing small things everyday that make me feel loved, beautiful and alive. I also know that we rarely take the time, even just ten minutes, to do this for ourselves.
This is why I've created a free program and community to motivate you and hold you accountable in creating the life and body you've always wanted.
This is what some of the women had to say about the challenge:
"I have absolutely been out of my comfort zone for some of these challenges but have persevered because the growth exponentially outweighed the risk. Bottom line: I grew and that is good!"
"I have made so many changes in my life in the last month (flowers regularly, putting my fork down, reasoning why i am hungry) that are so easy to implement in a busy life and so enjoyable. I feel wonderful and I'm making sure there is time in each day for making a better me!!"
"I have really gotten a lot out of this challenge. Sitting taller and walking with boobs out hahaha More mindful eating and noting how I feel when I want to eat. I have lost 5 pounds!!! YAY me!!! #lmwlchallenge THANK YOU for the inspiration and support."
"What I learned: a more meaningful life is within my grasp, and I am going to start dreaming bigger. I already dress nicely, do my hair, wear dresses and lipstick, and so on. Now it's time to start having more fun. I don't necessarily need to lose any weight, but I really do want to "lighten up!" and just enjoy my life more."
"I have LOVED this challenge SO much and I know in my heart it will continue for me! I am so thankful I've had a beautiful opportunity to develop mastery, live more, weigh less, meet kick ass woman and drink in the goodness of you sarah! I feel so blessed and I'm excited to keep going! I know my beauty will help other people and my family so thank you."
"After doing this challenge I feel lighter and more determined to do the things I want and to live a fun, meaningful, and thoughtful life. I still have a long way to go but cant rell you how happy i am that i found you sarah and that you have shown me were and how to start to live that kind of life. hugs and kisses. I have had so many ah-ha moments and times were its made me stop and think. Really deeply into things In my life. So thank you so much from the bottom of my heart."
The challenge begins September 15th. When you enter your name and e-mail you will be automatically enrolled and will receive information on the format and directions to get the most success out of the challenge.
You'll also have a chance to win a free spot in my signature program Live More Weigh Less Mastery during the spring of 2015.
Can't wait to dive in this fall!
Love,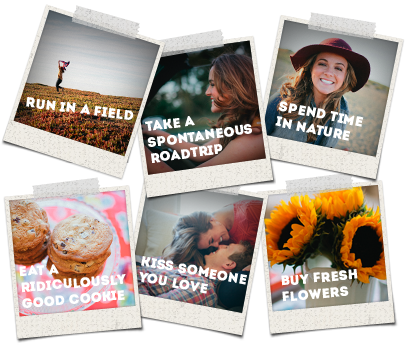 designed with love by Alison Leipzig Designs ♥ developed by Lindsay McGuire